Managed Technology Services
REDD is your most complete Technology Success Partner
Focused on business and technology insights to help you align your success with the right tools, methodologies, platforms and people.
Fully Managed Technology Service
Supporting you from planning through to executing how best to move your organisation into the 21st century, with leading-edge IT service and support.
Co-Managed Technology Service
Leverage our comprehensive skillset as an extension of your team to drive technology related initiatives, and free your people to generate real business value.
Special Ops
Our Special Ops team tackle the most challenging of technical problems, with deep Dev Ops, Security, Automation and Power Platform experience the REDD Special Ops Team is up to the challenge.
24 x 7 Help Desk Support
Working alongside your team to help bring out the best in your team's capabilities in using technology more
Microsoft 365, SharePoint, Azure and Teams
With deep alignment to the Microsoft 365 and Azure ecosystem, REDD is perfectly positioned to help your organisation maximise your investment in Microsoft technologies.
Procurement
REDD has curated a selection of the world's best technology vendors and most reliable supply chains to ensure we are able to deliver consistently high-quality solutions, from laptops, to firewalls, to software licensing and beyond.
Projects
From data migrations and Cloud deployments, to full office fit-outs and everything in-between - our experienced Project Managers and Engineers have seen it all before!
Customer Feedback and Experience
Creating a unique Customer Experience that leaves you feeling comfortable and safe is of paramount importance to us. We understand your business is your most valuable asset, and ensuring your people have a positive IT experience is critical.
Learn more...

Technology is driving every aspect of our world
With a Net Promoter Score (NPS) exceeding 9/10, you are guaranteed true human-2-human trust and support
REDD's value proposition revolves around ensuring our customers have all the correct technology in place to enable them to achieve more, supported by a professional team available 24/7, who always stand behind the platforms, technologies and services consumed
REDD's team provides you with the skills and capabilities to professionally support all your technology needs
Typically, businesses have to engage with several providers in order to complete their entire technology lifecycle. These include providers for cloud, software, internet, telephony, printing, business intelligence, software development, tech support, and more. REDD removes this pain by becoming a "one stop technology shop" that delivers the complete end-to-end solution.
REDD's team specialise in the core disciplines that make this a reality, including Digital Strategy, Digital Governance, Digital Transformation, Data Insights and Analytics, the Microsoft Power Platform – including deep skillsets in PowerApps, Power Automate and PowerBI. Furthermore, for more specialist offerings such as Microsoft Azure Dev Ops, Microsoft Light House and Sentinel, we have the team and capabilities to execute these business technology needs.
.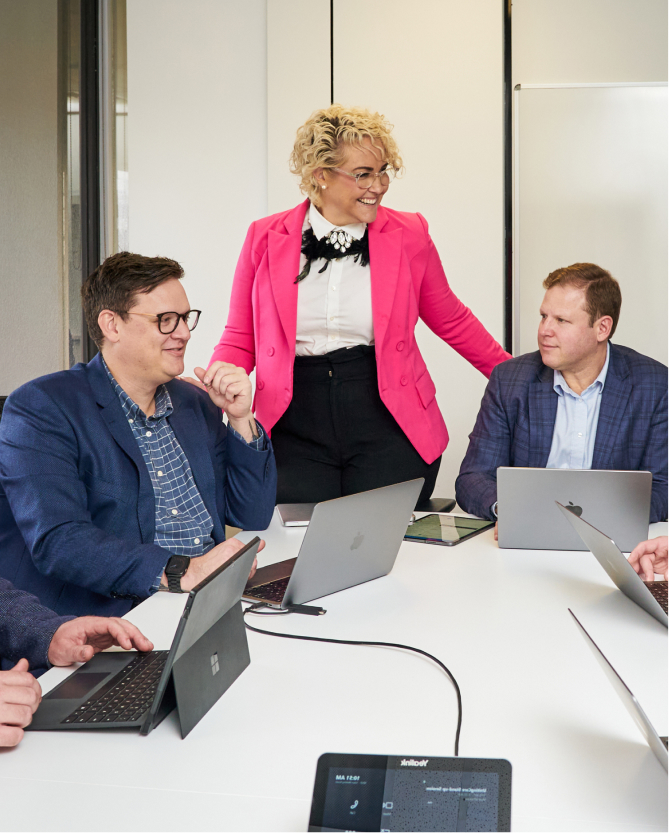 REDD's Transition Guarantee - Switching IT Providers (Risk Free)
Switching IT Providers can be a daunting prospect, so at REDD we make this as painless as possible. We start with a Technology Review Assessment. This small investment is rebated to you as a discount off your first month managed services invoice.
With a team having more than 28 consecutive years experience supporting Australian organisations, REDD has built resilient processes and tools to ensure the critical data you need from your current provider is securely captured in our 'vault', thus mitigating future risks once you've moved away.