Emerging Cyber Security Trends in Australia: What Businesses Need to Know
Emerging Cyber Security Trends in Australia
The digital age has brought countless benefits, but it also comes with challenges. Among them is the heightened concern around cyber security. In Australia, discussions about evolving cyber security regulations are gaining traction. The following blog will cover the key points every business needs to know about the future of cybersecurity in the country.
Tighter Deadlines for Incident Reporting
Previously, companies had a 30-day window to report security incidents. But recent discussions suggest that this may soon change. Businesses might need to determine the significance of a security incident and initiate necessary processes within a mere 72 hours. This shift underscores the urgency of responding to security breaches promptly.
Empowering Individuals
A significant change on the horizon is the potential for individuals to have the right to sue in the event of loss of their private information. Previously, this wasn't possible. But with personal data becoming more crucial, individuals may soon have legal avenues to protect their digital identity, paving the way for possible class action lawsuits.
A New National Strategy
The Australian government isn't sitting idly by. They've introduced the Australian Cyber Security Strategy, aimed at enhancing the nation's digital defences from 2023 to 2030. This strategy might increase governmental involvement in breaches, a point of contention among some businesses. The silver lining? The Australian Cyber Security Centre. While resources might be thin, their expertise can be invaluable to companies looking to bolster their defences.
Stiffer Penalties for Lapses
Discussing the financial aspect of cyber security, the potential for increased fines for directors stands out. Companies could face penalties of up to 50 million dollars or 30% of turnover, whichever is greater, for breaches. The perspective is that while companies are victims of cyber attacks, they also bear responsibility to protect their digital assets and, by extension, their customers.
Recommendations for the Future
For businesses feeling overwhelmed, experts offer some advice:
Listen to the Experts: Sometimes, measures like Multi-Factor Authentication (MFA) might seem tedious but are vital for protection.
Allocate Budget: Cyber security isn't an area to skimp on. Prioritise and invest in it.
Plan for the Worst: A robust disaster recovery plan, backups, business continuity strategies, and appropriate insurance are essential. Always hope for the best but prepare for the worst.
Conclusion
As discussions around cyber security in Australia continue, it's clear that the landscape is evolving. Companies must adapt, not just to avoid penalties but to ensure the trust of their customers and the longevity of their businesses. Embracing change, partnering with experts, and prioritising cyber security is the way forward in this digital age.
To learn about REDD's Managed Security Services and how it can benefit your business, contact us via our website at https://redd.com.au/contact/ or email us at [email protected]. Safeguard your data and ensure the resilience of your business with REDD.
Don't Want to read this? Don't Worry – we've got you covered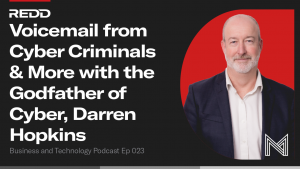 Watch our podcast with the Godfather of Cyber, Darren Hopkins OR Schedule a free consultation with one of our expert advisors today at https://cyber.redd.com.au/book-now
Reach out!
If anything in this post interests you, or you'd like to have a chat with someone about your technology challenges, we would love to hear from you!